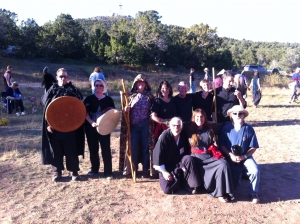 Join us in the beautiful Manzano Mountains of New Mexico on the weekend of 13 to 15 September 2019 for Magickal Mountain Mabon, presented by the Chamisa Local Council of the Covenant of the Goddess. Kerr Cuhulain and Lady Cassandra will be there along with other Knights of our Order to teach classes, including:
Mastering Magickal Energy
The Pagan Warrior:
Haka Boot Camp:
The (new) Armoring Ritual
Many other presenters will be there to present rituals, classes and meetings including the Newcomer's Workshop, Mead Makers Gathering, Bardic and Fire Circles; the Ardantane Auction; and much more!
Ardantane will be sponsoring The Happy Cauldron, a gathering place for festival attendees featuring the Ardantane Boutique, selling gently used ritual and festival wear, snacks and drinks, and good company throughout the festival.
You can find the schedule and more details at https://www.chamisa.org/mmm/.
Registration is capped at 250 and is first come, first served.
Go to https://www.brownpapertickets.com/event/4290086 directly to register, or https://bpt.me/4290086 if registering on your phone.
***NOTE*** Tickets are NONREFUNDABLE and NONTRANSFERABLE.