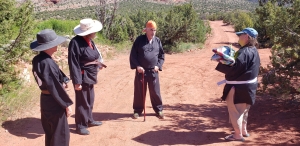 The Warrior Weekend at Ardantane 26-28 April, 2019, was amazing. We participated in Ardantane's Beltaine ritual on Friday night, into which Amber K introduced a Warrior element: Warriors defending what we love. She called on Scáthach in the ritual, and when the ritual ended the deities were thanked and blessed as they departed… only Scáthach remained. Lady Cassandra and I both noted this. Later, Cassandra and I went out to discuss the proposed Vigil for the Knights on Saturday night, walking off down the canyon trail towards the Bardic Circle. We walked into that Circle, and Scáthach was there with us. It was then that we both realized that she'd placed a "shadow" of Caer Paladin and the Perilous Glen over that Bardic Circle, which is oriented to the compass exactly as Caer Paladin is. Our hair standing on end, we both made oaths to Scáthach to deal with issues that had arisen in our lives. We then left the Circle without making any attempt to take it down. We both realized what Scáthach was telling us: This was to be the place of the vigil. The Knights were meant to experience the Perilous Glen as they approached the Circle. In the photo above you can see Kerr briefing the Knights who are about to participate in the vigil.
I went back early next morning and it was still there in the Bardic Circle. We could feel it clearly. We briefed the Knights on what was required, led them to the Bardic Circle, gave them final instructions, and left them off to conduct their vigils. Cassandra and I acted as "Shield Bearers" that monitored the vigils, making periodic checks to make sure everyone was in good shape and hydrated. All reported remarkable experiences.
At the end once everyone had returned, Cassandra and I returned to the Bardic Circle and thanked Scáthach and the "shadow" of the Caer withdrew and the Bardic Circle returned to normal. A new tradition had been established.